LE ROUGE FRANÇAIS develops proprietary and patented formulas, reaching a level of naturalness well beyond the minimum required by the BIO certification. With a choice of ingredients concentrating a high level of active ingredients, present even in the composition of its plant pigments.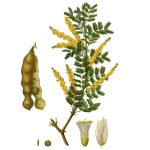 Acacia senegal (L.) Wild
Acacia gum, rich in polysaccharides and glycoproteins, is a real "tensor" and lifting cosmetic active ingredient. ln addition to its firming properties, it is filmogenic and protects the skin from dehydration.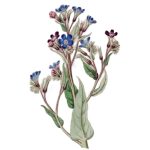 Alkanet root
The alkanet is a tinctorial plant, whose vegetable powder brings mahogany reflections, warm reflections and purple tones.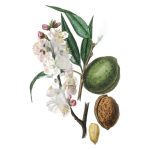 Amygdalus communis
Sweet almond oil is extracted from the almond, the fruit of the almond tree. It is an oil that is rich in vitamins, minerals and omega-6 and 9 fatty acids.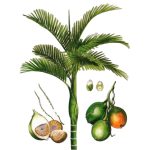 Argania spinosa
Argan oil is native to Morocco. It is coveted for its richness in Vitamin E and unsaponifiable matter. Argan oil is known for its nourishing, regenerating and restructuring properties.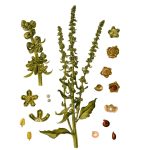 Beta vulgaris L.
Red beet is rich in betacyanins, pigments of red to purple color. They are also excellent antioxidants that protect against skin aging.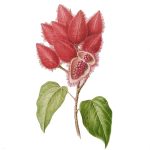 Bixa orellana L.
Sacred plant for many Amazonian civilizations, the Roucou is still used as body paint. Its dyeing principle is bixin, a molecule that gives the seeds of Roucou a red color.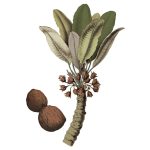 Butyrospermum parkii
Derived from the nuts of an emblematic tree of the West African savannahs, shea butter has been used for centuries by local populations. Its nourishing, moisturizing and protective properties make it a must in our formulations.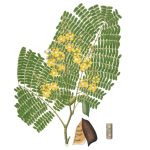 Caesalpinia sappan L.
Sappan wood is a member of the redwood family. Native to the regions of Asia, it has been used for thousands of years to dye fabrics from its deep red natural colour.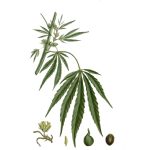 Cannabis sativa L.
Hemp oil extracted from cannabis sativa is rich in omega 3 and omega 6. Applied to the skin, these fatty acids restore its elasticity by renewing the hydrolipidic film, while soothing tle irritation and redness.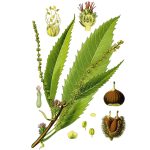 Castanea sativa Mill
Chestnut bark offers a magnificent brown-beige pigment. It is from the 19th century, that chestnuts bark tannins have started being used for tanning and for other dyeing purposes.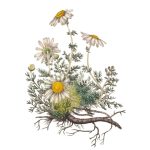 Chamaemelum
Chamomile hydrosol is known to relieve, revitalize and purify the skin. Chamomile is rich in flavonoids, whose active ingredients calm irritations thanks to its natural anti-inflammatory, antiseptic and anti-bacterial properties.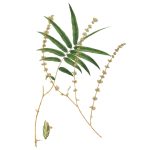 Charcoal
Activated charcoal is obtained by burning branches, shoots and roots of bamboo. It is a vegetable black pigment with detoxifying properties.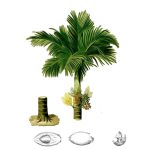 Cocos nucifera L.
Also known as Coconut Butter, this oil is a very popular ingredient for its protective, softening and emollient properties on the skin.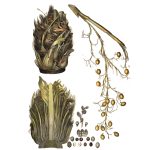 Copernicia prunifera
Carnauba wax is secreted by the leaves of an endemic palm tree in Brazil. It thickens the balms or emulsions and increases their film-forming power.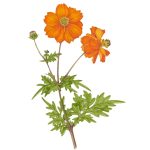 Cosmos sulphureus Cav.
Native to Latin America, Cosmos was used by pre-Columbian civilizations as a source of yellow and orange dyes. The flowers of Cosmos are edible.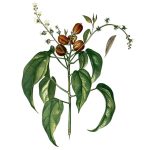 Croton lechleri Müll. Arg.
Since ancient times, this blood-red resin was used both in medicine and as a dye. Its resin is known for its healing and antioxidant properties.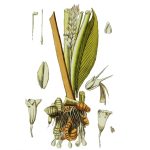 Curcuma longa L.
Deeply rooted in Hindu civilization, turmeric is used in textile dyeing, body painting but also as a condiment and medicine. The dried and powdered roots release a beautiful golden yellow colour.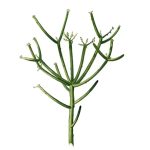 Euphorbia cerifera Alcocer
Candelilla wax is secreted by the leaves of a shrub native to Mexico. This wax has an excellent film-forming power, protecting and repairing lips and damaged skin.
Helianthus annuus L.
The sunflower oil is very rich in vitamin E and omega 6. It is also used to make oily macerates of mixed flowers.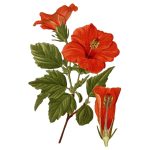 Hibiscus rosa-sinensis L.
The juice of the petals and flowers of hibiscus was used as a dye, in China and India, to blacken eyebrows and hair. Now national flower of Malaysia, the hibiscus is still used in traditional malaysian medicine.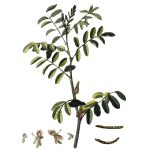 Indigofera tinctoria L.
Indigo leaves contain a precursor molecule of indigo, the indican. The colors obtained in vegetable dyeing go from black to a light blue, called "crow's eye" blue.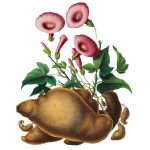 Ipomoea batatas (L.) Lam.
The purple sweet potato is rich in anthocyanins which give it its purple color.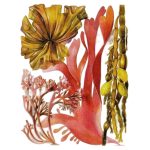 Lithothamnion calcareum
Small red sedimentary algae has an alkaline pH with anti-acid actions by participating in the acid-base balance. It is rich in calcium and other minerals.
Manihot esculenta
Tapioca starch is coming from the root of the cassava plant. Its powder helps to absorb perspiration, without interfering with the natural process of sweating.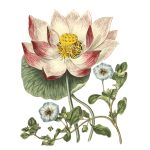 Nelumbo nucifera Gaertn.
Sacred flower of the oriental religions, the lotus is the symbol of elegance and purity. The powdered flowers give a pinkish beige pigment.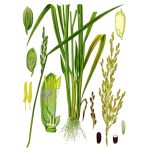 Oryza sativa L.
Rice wax is a vegetable wax obtained from the envelope that surrounds the rice grain: the bran. It is an excellent substitute for animal waxes so to guarantee our vegan formulation.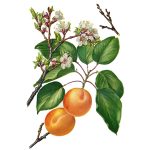 Prunus armeniaca L.
Apricot kernel oil has infinite virtues, including revitalizing, regenerating and antioxidant properties. This oil has all the benefits to fight effectively against cutaneous ageing by supporting the cellular renewal.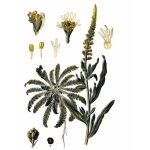 Reseda luteola L.
Used for thousands of years, Gaude gives a pale yellow pigment. It used to be the main source of yellow, orange and green dyes for the Egyptian dyers from the 1st to the 10th century.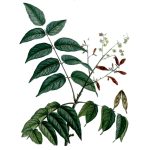 Rhus semialata Murray
The galls harvested from the Chinese Sumac (Rhus semialata) are rich in gallotanins. Reduced to powder, the galls give a nice beige color.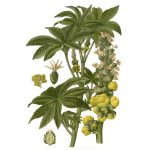 Ricinus communis L.
The castor is a shrub with imposing leaves, whose seeds offer by cold pressure process, an excellent vegetable oil to nourish and strengthen the hair, the lashes and the eyebrows.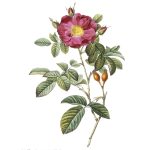 Rosa x damascena Mill.
The Damask rose has been revered since antiquity, representing the icon of womanhood and femininity. The powdered flowers give a powdery Pink pigment with soothing and invigorating biological properties.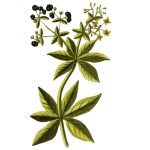 Rubia tinctorum L.
Madder has been used for thousands of years, since the time of ancient Egypt, Rome and Greece. The roots contain a multitude of dyeing principles now used into our vegetal color extraction processes.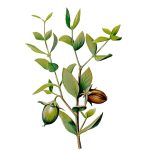 Simmondsia chinensis
Produced from jojoba seed oil, this wax is known for its moisturizing and softening effectiveness, which gives a soft and pleasant feel to the skin upon application.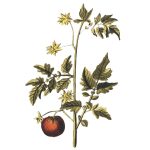 Solanum lycopersicum L.
The highest concentration of lycopene is found in tomatoes. ln addition to its beautiful orange-red color, lycopene is an excellent antioxidant.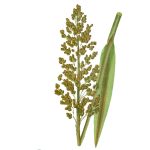 Sorghum bicolor (L.)
The dye from the sheaths surrounding the stem was used to dye leather, cotton and rushes, but also as body paint, to dye gourds and masks in southem Benin and Nigeria.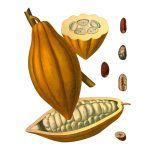 Theobroma cacao L.
The vegetable cocoa butter is known for its anti-oxidant properties, fighting against the acceleration of the aging of the skin cells.
Trifolium
Red Clover is a perennial herb from Central Europe that grows on irrigated or rocky limestone soils. Its ingredients accelerate the formation of proteins from the extracellular matrix, boosting the size and anchoring of the hair follicle.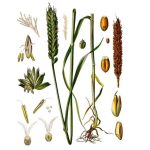 Triticum
Cultivated for thousands of years, virgin wheat germ oil is used for its richness in Omega-6, vitamins and carotenoids. It helps to preserve skin aging and protect the natural elasticity of the skin.